Summary
Husky has developed and released the Employer Portal (v1.0). The portal is designed to provide a resource to help understand the company's workplace pension, the contributions due and already submitted as well as viewing all auto-enrolment communications issued to workers.
The portal will also allow workers to receive an invitation to the Husky for Everyone App. This app has been recently released and allows workers to engage further with their workplace pension.
Overview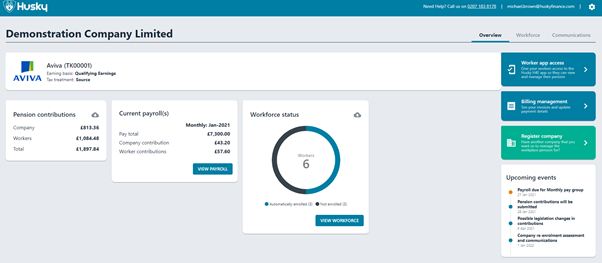 The landing page, or Overview, will provide a summary of key pension information:
Pension Scheme details: Scheme reference, earnings basis and tax treatment of the scheme
Pension Contributions paid to date: clicking the download button will allow date ranges to be selected and downloaded to show a breakdown of these costs per pay period
Current payroll estimated costs (the open payroll period): This will show the current open contributions. This may not be finalised with payroll and are indicative based on the prior pay period submission.
Workforce Status: Classifies the workers into enrolled or not yet enrolled. Clicking the download button will allow date ranges to be selected and data downloaded to show a breakdown of these costs per pay period for all workers.
On the right-hand side there are the following options: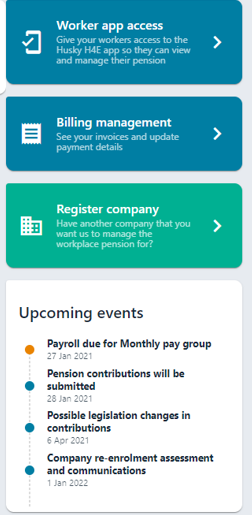 Worker app access: Selecting this option is a quick way to issue App invites to all enrolled workers who have a valid email address recorded in Husky. A pop up will ask you to confirm the issuing of these invites*.


*It is recommended that the email addresses are verified under the Workforce Section to ensure access to personal data is sent to the correct individuals.

Billing Management: This section details the current Husky subscription information:

Subscription Plan: The current plan type and cost
Account Information: Can be amended to set where automated invoices are delivered via email
Payment Methods: Shows the current payment method with the option to amend the Card or Direct Debit details directly.
Billing History: Lists all Husky invoices, paid, due for payment or collecting and those voided.

Register Company: This section provides quick access to registering with Husky a new company that may need assistance with the Workplace pension set up, compliance or ongoing management.
Upcoming Events: The Upcoming events will display notices of key events that are due to help awareness of items. Husky will be monitoring all these events.
Workforce

The workforce section will show the current workers active as of the last pay period and their current pension status. The filter on this page will be pre-set to show "Eligible Jobholders" and "Opted In" workers – i.e. Enrolled members of the workplace pension. This filter can be amended to show all workers.
On the worker records, there is a status called "Mobile app access". This will indicate whether the worker is using the Husky for Everyone App. There will be one of three statuses:
Uninvited: Workers with this status have not been issued an email activation code. This code will allow workers to download the App and apply their unique code to link to their personal data.
Invited: Workers with this status will have been issued an email activation code but have not yet linked the code with their App.
Invitation Accepted: Workers with status will have been issued an email activation code and have linked with App with their data. These workers can be considered active users of the Husky for Everyone app.
Sending the Husky App Invitation
To issue an app activation email, a valid and correct email address must be stated for each worker. The current email address will be displayed under the "Email" column. Where no email address is currently known, there will be no value.
To provide an email address for a worker, the worker name can be selected (the name is highlighted in blue). See the example below:

Under the "Contact Details", selecting 'Edit' will allow the worker's email and home address to be amended.
Issuing a Husky App Invitation
When an App Invitation can be issued due to the presence of a valid email, the "Send app invites" dropdown option can be selected. This will allow 'Contributing Members' to be sent an activation email.
If you wish to only issue with a selection of workers, the checkbox beside the worker record can be selected. Then dropdown box under "Send app invite" will now allow an option to send to just the selected workers.
An email will be issued and the Mobile app access with changed to 'Invited' (and 'Invitation Accepted' once the worker has activated.
Communications
Husky will issue auto enrolment communications to workers on events that require communications to be issued. Where an email address was provided, these will have been issued directly to the worker. Where the worker email address was not present, they would have been issued via email to a designated company representative to issue to the worker.
The Communication section will provide a record of all communications generated and can be downloaded.
*in some instance, communications may appear as issued to
support@huskyfinance.com
. Our support team will have sent these communications directly to the workers or company outside of the Husky platform.
Future Development
Husky will be adding new features in line with our development plans. Any new features will be included in our What's New notifications on the portal.
Do you want to know more? Have a look at our roadmap to see what we have just launched, what we are currently working on and give us some ideas on what we should be working on next!